This post isn't about fun.  It's written in response to my partner Josh's admonition that I should write from the heart on what I'm passionate about.  Write my own story.  This isn't an easy story, or one that will further my fun agenda.  But I feel that it needs to be told.  Let me know what you think.
Note:  I use profanity pretty freely in this post, and for a reason.  Profanity supplies the only words strong enough. 
Should We REALLY Be Discovering the Secrets of Life . . .
. . . In an All Balls to the Wall, Full-Tilt Boogie, Damn the Torpedos and Full Speed Ahead Way?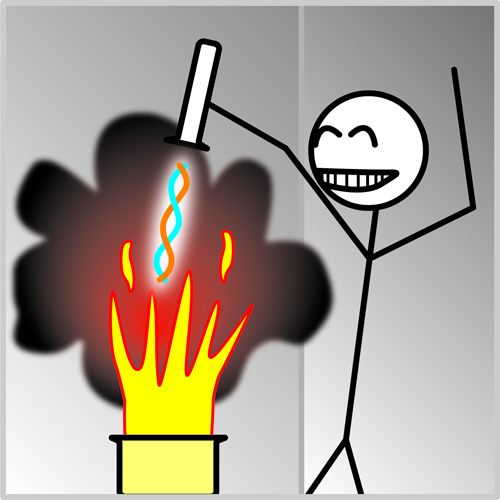 I was an academic scientist for almost my entire life. I decided to become a biochemist when I was 12 years old, mostly because my older brother was a physicist, chemist, and had the world's most awesome chemistry set. A chemistry set that was all chemicals that burned, made colored flames, and blew up. My brother made fireworks, and what better lure could you dangle in front of a boy to make him bite on science?
I can't remember why I decided on biochemistry, but I think it had to do with people saying it was the hardest discipline. If you were a biochemist, you were smart.
I was smart, one of the smartest people in every school I attended until I went to college. There I discovered girls, fellow students that played Dungeons & Dragons every single night, computer programming, recreational drugs – and that I was no longer the smartest guy in the school.
Michigan State University isn't the best school in the world, and, even in Michigan, the University of Michigan turns its nose up at Moo-U. Nevertheless, there were a lot of brainiacs wandering the campus. Many looked like they'd just crawled out from under rocks. Some made me feel the same way I'd made a lot of my former classmates feel.
I dropped physics. I stopped taking mathematics. I stuck with biochemistry once I'd balanced my recreation with my future. I graduated, worked in a lab that studied the kidney, and went to grad school.
I worked on fungal diseases of sorghum for my Ph.D., bacterial diseases of tomatoes for my first post-doc, and finished post-doc work on fungal diseases of corn. Then I ended up in a job that led to a faculty position and running my own lab working once more on the kidney.
I grew up in science through the DNA revolution. As I started, the tools to manipulate DNA had just been developed, and they were perfected as I moved through school and my various jobs. By the time I finished, the process of making genetically modified organisms, especially microorganisms and transgenic mice, had become routine.
In the early seventies, scientists got a bit spooked by the abilities they'd developed. Abilities that look pretty pokey and crude today, but that had grown in power really quickly. The discovery of the structure of DNA, and that it was the genetic basis of life, had only happened 20 years before. And then – suddenly – we could change it. Scientists decided to stop. They did stop, and all together. It was unprecedented.
They got spooked. There was a big-deal conference in 1975 at Asilomar, CA, where policy makers, lawyers, scientists, and anyone else who could get a ticket got together and talked it over. Stopping made a big point. Should we stop technology, was it too scary, should we think it over?
The conclusion was:  No. Let's keep going. Here's a quote, the concluding paragraph from a perspective piece in a prestigious, top of the Google search list article on the Asilomar Conference:
In retrospect, very few of those attending the Asilomar Conference foresaw the pervasive, complex, robust, and rich ramifications of recombinant DNA technology. Nor could most have predicted the pace at which fundamental understanding of biology has deepened. As with all changes in human thought and technological developments, we are left with new and unanticipated issues. And, as so often in the past, science, which itself is a uniquely human endeavor, is challenging traditional ideas and values.
Let me put this simply. Bullshit. Yes, we have robust. Complex. Pervasive. Yes, indeed. But with focus on "rich." Genetic engineering is worth a pile of money.
And so it's all balls to the wall, full-tilt boogie, damn the torpedos and full speed ahead. Worst of all, it's devil take the hindmost.   If we don't do it, they will. And then we'll be behind, and what does that mean for our economy?
Shut. The fuck. Up. We're not talking about a better way to make Hershey bars, or steel, or even nuclear weapons. Nuclear weapons don't reproduce. They don't have their own agendas. We don't have to worry about whom they breed with, and where that delightful biological technology might wander off to because they didn't breed the way we expected.
I'm scared of my field. I've wandered that field, run my hands through the ripe seed heads bowed under their own weight. I've played with them, and smelled them, and weighed the pregnant seeds in the balance of my own desire.
We want to cure disease. And have cheap energy. And save the whales. And live forever. Emphasis on live forever. And biotechnology might offer all this, and more. But it has its own agenda. It's alive.
We don't have the foggiest idea of how DNA works. Okay, we do have some foggy ideas. We can understand some basics about how it's regulated, what the broad outlines of the machinery that makes it work looks like, we can manipulate it and sometimes get what we want.
But we don't really understand how the nucleus of a cell (where the DNA is) works. It's really, really complex. It's like understanding New York city. We don't even really understand how all the food that people in NYC need gets there over only a few bridges. We don't understand shit.
But we're not just strolling, or walking purposefully towards something . . . we're running. We're hustling, sprinting – we're dashing as if all the devils of hell were whipping us forward. It's a race with the Chinese and their billions of dollars. A desperation sprint out of a crumbling American dominance of science to catch up with a dream.
Nassim Taleb wrote a book called The Black Swan that speaks very directly to our current approach. No, not that Black Swan. Nothing to do with ballet. His message in a nutshell is that you want to open yourself to beneficial black swans and protect yourself against bad black swans. Black swans are very very unlikely events. Asteroids hitting the Earth. Stock market crashes. Winning the lottery.
Which means we should buy the occasional lottery ticket, and avoid single issue stocks. We should use medicines that have been around for two hundred years and avoid the most recent pharmaceutical – unless, of course, we're dying and the alternative is, well, dying.
Most biotechnology is tested, peer-reviewed, thought over by the best and brightest, and brings us benefits. Let's assume that 99.99% of biotechnology is just wonderful. Makes us 1% better every time it's applied. 10,000 x 1% means we're 10,000% better.  Or something like that. Like many of us, including us scientists, I'm not all that great at probability and statistics.
The problem is the lonely 0.01%. The Black Plague. The Great London Fire. The San Francisco Earthquake. Now imagine a San Francisco Earthquake that acts like the Black Plague. It spreads. Earthquakes in Madrid, Borneo, Portland, and Poughkeepsie, NY.  Pretty soon the whole world is shaking itself apart.
This is the black swan of biotechnology. And the swan won't be a terrorist, or a demented scientist getting back at the cruel, unfair world by making something awful and devastating (e.g., Herbert's The White Plague). It will be an "Ooops." And that Ooops will be a lot worse than a 10,000% increase in your stock portfolio could ever balance.
The best exemplar of what I'm talking about is a Farside cartoon I remember (not exactly) picturing a street corner. A typical Farside fat scientist is leaning out of the upper story window of a building, the sign outside reading something like "Unnamed Rare Diseases Institute." On the sidewalk below is some broken glass. The caption is, "Ooops."
I can't remember where I read it, but someone wrote something like, "What I fear is the efforts of well-meaning, dedicated, ambitious, innovative, and persistent people." What I fear is people like that who are whipped forward, driven by the fear of imminent failure (and if you don't think science is like that, look again), who – with the best of intentions ­– make an, "Ooops."
Let's take a deep breath. Take a step back from the furious action. Let's think about this, and then talk it over. And think some more. What's. The fucking. Hurry?
Even if you believe in The Singularity, the emergence of a technological transcendence that can carry us all away forever into an immortal future, you should think carefully about unbridled, unregulated, and intensely driven biological research. Is it to your advantage to upload into the Universal Computer Intelligence only to be corroded down to digestible molecules by the creeping biotechnological crud?
And even if you don't worry about doomsday scenarios, I think you should worry about anything that's generating change at an ever increasing pace. Change that you have to live through, and deal with. Change that may carry a few of us up, up and away into Techvana, but leaves a lot of trash to be picked up and dealt with by the hoi polloi. Which means you and me, unless you're Ray Kurzweil.
I'm scared of my field. Help me feel less scared. Help you feel less scared. Less like you're watching helplessly as everything spirals out of anyone's control. Let's chill out a bit.
I don't mean government regulation – though we should have some. What we have now is guidelines. The government won't fund some research – like embryonic stem cell research using human embryos. That doesn't mean it doesn't happen. There are no regulations on biotechnological research with any real power.
Let's fucking talk about it. Yes, fucking. As in, what the fuck? There are a lot of smart people doing this, and they have questions, but if they express them – they don't get funded. This means they lose their jobs.
If they stop doing recombinant DNA work – they lose their jobs. Do it or die.
I did some really good work on plant diseases, and in understanding how therapy for kidney diseases work.  I'm proud of my work, and it was hard.  I respect science, and the people who dedicate their lives to it.
But dedication and intelligence doesn't excuse irresponsibility.  If you make a new smallpox virus that can kill 98% of people who are infected, the intelligence and dedication required to get there doesn't excuse the outcome.  Bright people are well informed, and should be part of the decision making process.  But, all too often, they're stubborn, arrogant, self-centered, and scared of stopping even if what they're doing is scaring them.  Let's help them.  Help me.  Put your stubborn horse sense into the service of your fellow man.  Pull back on the reins and say, "Whoa, horse!"
I don't have the answers, but I do have a lot of questions. Shall we sit down and talk about it, or are you too busy making tomorrow for me?