The holly daze got in the way, and then a case of the flux – the grippe – the ick – the flu, caught from one of my grandkids (grandnephew Winston or grandson Julian), knocked me off the office chair and flat on my back.  So it was with little hope that I went back to Saraga International Market to look for red jalapeños, knowing that they're seasonal.  But it seems that recreating Huy Fong's Sambal Badjak was destined to be – right inside the door they had jalapeños on sale for 79¢/lb, and red jalapeños for just 10¢ more.  Yay!  BTW,  check out the Sambal Badjak link – despite the fact that Huy Fong doesn't make Badjak any more, they still have a brief page on it with an image of the old bottle.
I'd forgotten that I used empty Huy Fong Sambal bottles to store nuts & bolts when I made my first try (see Fun with Food I), and tried to get the ingredient list off from Huy Fong.  Here is the first reply:
Dear Richard,

Thank you for your interest in our products! We strive to make the best sauces using quality ingredients in every bottle.

In regards to your email, we do not produce the Sambal Badjak. If you are interested in purchasing, you will need to purchase through a distributor.

Again, thank you for your inquiry. If you have any further questions or comments please do not hesitate to e-mail us.

Sincerely,

Customer Service
I wrote again, a simpler, shorter email that just asked for the ingredient list.  In reply:
…In regards to your email, we no longer produce that product so we do not have any information we can help them for you. We are sorry for any unconvenience.  Thank you for the comments and support…
I must say that I felt unconvenienced, though I did love that email.  I looked on the web for an image that was good enough to read the ingredient list – no joy.  Finally I remembered the nuts & bolts storage, and found an old bottle of Sambal Badjak.  Here's the ingredient list:
Huy Fong Sambal Badjak Ingredients:
Chili
Distilled Vinegar
Soy Oil
Sugar
Salt
Onion
Garlic
Shrimp Paste
Potassium Sorbate
Sodium Bisulfite
Preservatives
Wow!  No nuts, no coconut, and, if the ingredient list was in order from most to least by weight, less onion and garlic than sugar and salt!  Surprising, but in some ways not so surprising for a commercial product.  So I decided I'd do something similar:
The Ransom Recipe for Huy Fong Sambal Badjak, v. 2.0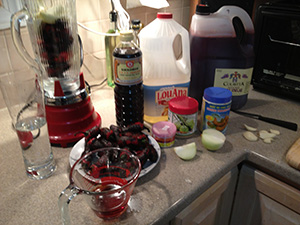 30 roasted red jalapeños (about 1 1/2 lb)
1/3 cup red wine vinegar
1/2 cup soy oil
1 tbsp palm sugar
3 tbsp light Kikkoman soy
2 medium yellow onions
12 big cloves garlic
1 tsp fermented shrimp paste
1 tbsp tamarind
water
1 tsp dried lemon grass (Penzey's)
2 tsp dried galangal (Penzey's)
As suggested by Jeff in his response to my Fun with Food I post, I roasted the jalapeños, using my Cajun Cooker (a simple gas jet – works like a charm!).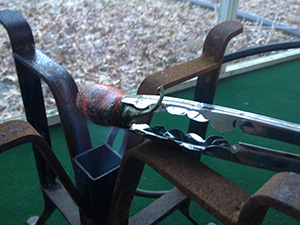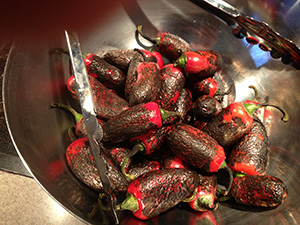 Everything got blended together except for the oil, shrimp paste, tamarind, and spices.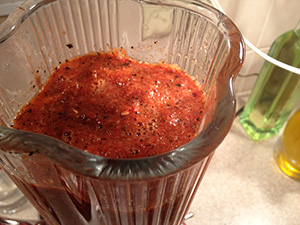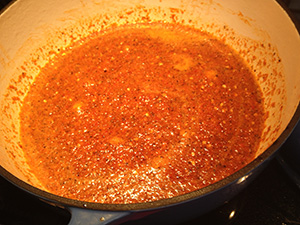 I brought the oil up to medium hot, added the blended ingredients, and after the mixture started poppin', reduced heat to a low simmer.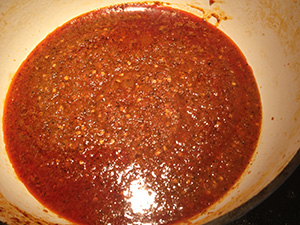 After it cooked for about an hour with stirring, I added the rest of the ingredients (shrimp paste, tamarind, spices).  I continued to cook the sambal all afternoon, adding water regularly to prevent it from thickening too much and sticking.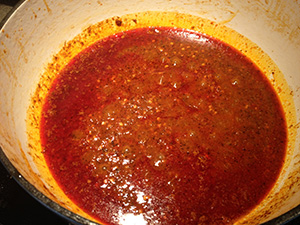 That evening I turned off the heat and let the sambal sit overnight on the stove.  In the morning it was just about what I remembered from the old Huy Fong Sambal Badjak:  brown with beautiful ruby red oil separated out.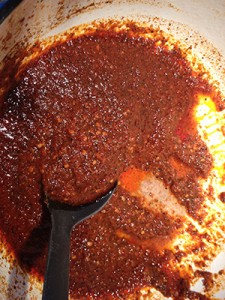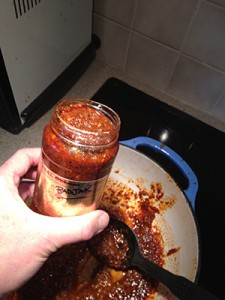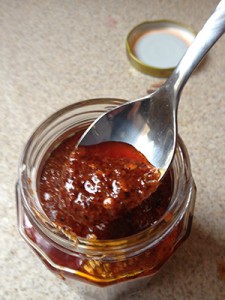 Here's a few notes on the cooking:  The red wine vinegar smelled like a mistake at first, it gave off a lot of acetic acid and a definite red wine aroma that I feared would dominate the sauce.  However, that character almost completely boiled off, though next time I'm going to switch to distilled white vinegar.
The consistency, color, amount of oil, color of oil, sweetness, and heat are all – as well as I can remember – spot on!  I might add more oil next time (say 3/4 cup) because the oil is really delightful.  The galangal is a dominant flavor of the finished sauce, so next time I may reduce or even eliminate it – and if you're trying to faithfully recreate the sauce, I would definitely not include it – but it gives the sambal great flavor.  I really like it.
In general, despite the fact that I largely guessed the amounts, this came out amazingly close to the original.  If you loved the Huy Fong Sambal Badjak, I think this is it!  I'm going out to Saraga tomorrow to get more peppers . . .