Is your own voice . . .
. . . and no more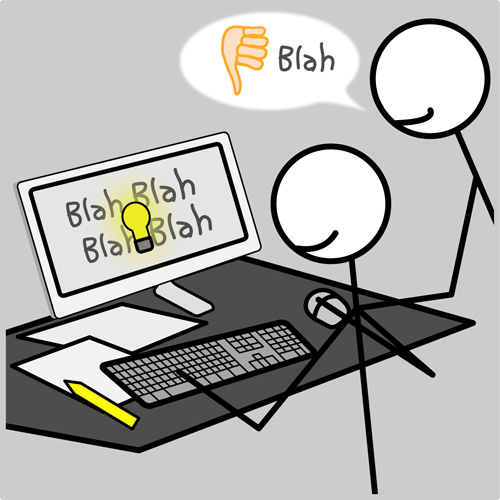 I've been writing professionally for many years, but in a very specialized field.  Academic science.  It's like writing for a Noh play, or in an especially restrictive and complicated form of poetry like the sestina. Formulaic just doesn't do it justice.
There's very little place for your voice in a scientific manuscript or grant.  In fact, the ideal is perfect objectivity – no "I" allowed.  Now that I'm no longer in academia, I've had to make a huge adjustment.  I must be in my writing.  I must be my writing.
My new work is to help people bring their work to fun.  Predictably enough, we've taken a scientific approach.  Our team does research, surveys, proposes and tests hypotheses, and analyzes. It's no coincidence that the first part of "analyze" is "anal."
But I ran into a wall.  Fun is the opposite of objective.  The best definition I ever came up with is:  Fun is what's happening when you know you're having fun.  Uh oh.  We can measure subjective data, and analyze it, but you can't send a series of methods for fun across the country and have it work the same way in San Francisco as it did in Columbus.
I tried.  There are common factors, general principles, perhaps even a Grand Unified Theory of Fun (not).  It was uncomfortable for me to confront a challenge that was truly different from my previous work, so I just went on doing it the old way.  Pick it apart, define it rigorously, be as objective as possible.
It wasn't fun.  And the writing was boooooooooring!  It was Captain Fun telling you how to have FUN!  I had some fun writing it, but less and less as I got tired of those three keystrokes.  It was preachy, and bossy, and not very fun.
Late one night I had a flash of insight.  Here's part of what I wrote to my partners:
I've sat and thought, and realized I've made a basic mistake.

I've mistaken intellectual understanding for personal knowledge.  I've forsaken the power of the personal narrative for a scientific analysis.

Today a 26 year old French journalist was killed in Africa.  And hundreds – nay, thousands – of other Africans died today before their 26th birthday.

We need to speak to people in the midst of tomorrow's famine, abominations, or . . . just the anticipation of a maybe tornado.

My suggestion is that we speak directly, personally, and unabashedly about what we think needs to happen to have fun.
My writing needed me, not my objective opinion.  I realized too that my former writing was not objective – it was formulaic and boring.  Machines didn't do the science, or pick through the data, or make the conclusions.  I did.  My colleagues did.  Human beings did.
Human beings live by stories.  We organize our thoughts in stories, make sense of the world as a story, and remember our experiences as stories.  Stories have heroes, and challenges, and a plotline, and an ending that flows from those elements (along with the boy-meets-girl part).  They don't often involve sitting in a classroom listening to a lecture.
Stories need a storyteller.  The voice that comes across the campfire out of the darkness.  The most compelling stories are told in the voice of someone who was there.  Listening to my father tell of meeting my mother, or fighting in the Philippines during World War II, was better and more compelling than any great short story.
I realized that it was my voice that was muted.  I had to come out of my scared little shell and speak my self.  I might be rejected.  Boo hoo.  But I'll never be accepted until I tell my own story.