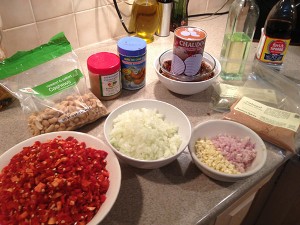 Hello everyone!  I thought I'd take a departure this week from my fun experiments to show a food (and yet fun) experiment – my attempt to reproduce Huy Fong Food's famous Sambal Badjak, a delicious Indonesian condiment.  Huy Fong, makers of the famous Sriracha sauce, stopped making their Sambal Badjak and Sate sauces years ago, and I was crushed.  I loved that stuff, and there is simply no substitute. I went to their site, sent them begging emails, and prowled the web for a recipe. I've subsequently tried a few, but they didn't give me the magic flavor and texture of the original.
This is my latest attempt. I emailed another wistful guy who was also looking for a recipe, but he hadn't found one either – though he did remind me of the smokey flavor that set the Huy Fong sambal apart. So I modified my recipe by adding smoked chiles (chipotles).
Sambal Badjak Recipe
The Ransom Version of the Huy Fong Food's Original, v. 1.0
Ingredients:
20 red jalapeños, diced
9 dried chipotle chiles, stemmed and crushed
10 dried chiles de arbol, stemmed and torn apart
3 medium yellow onions, diced
1 large shallot, diced
12 large cloves garlic, diced fine
~20 salted, roasted cashews
2 tbsp palm sugar
2 tbsp tamarind concentrate
1 13.5 oz can coconut milk
1 tbsp fish sauce
2 tsp Thai ground (dry) galangal
2 tsp dried, shredded lemon grass
2 tbsp light soy sauce
3/4 cup peanut oil
Cooking
Heat 1/4 cup of the peanut oil in a large Dutch oven over medium high heat until almost smoking, then add the diced veg (jalapeños, onions, garlic, and shallot).  Sweat for 10 minutes.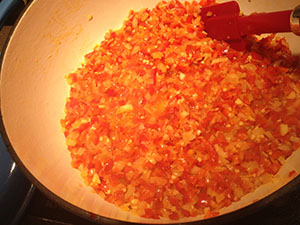 Cover the crushed chipotle and chile de arbol with boiling water and let rehydrate for about 10 minutes. Blend together with the cashews and additional water as needed to a thick paste.  Add to the sweated veg.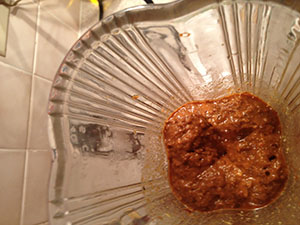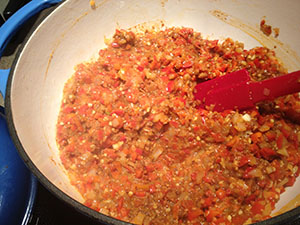 Cook for an additional ten minutes after reducing the heat to medium. Add another 1/4 cup of peanut oil, and cook for a few minutes longer.  Add the remaining ingredients except the last of the peanut oil.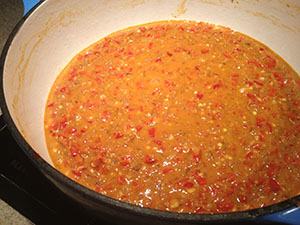 Continue cooking, making sure to stir regularly.  Scrape the solids off the bottom of the Dutch oven to prevent burning (they do carmelize, but don't let it burn – it will ruin the sambal).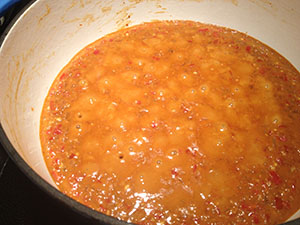 Reduce heat to simmer, continue cooking and stirring for half an hour.  Add the remaining oil, and cook another hour.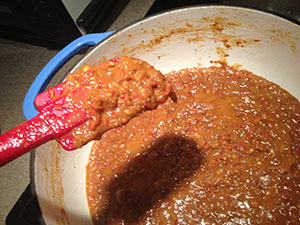 The Final Result
The finished product was more like the Huy Fong version than my previous attempts, but failed on a few points.  It was a bit too sweet, so reducing the palm sugar from 2 tbsp to 1 tbsp is recommended.  I remember the Huy Fong Sambal Badjak as being a little bit sweet, but not as sweet as most other versions of the sauce.  The smokey taste was there, but muted – it might be worth roasting the red jalapeños over a wood fire to get something stronger.  Though I suspect a frank smoke taste would ruin the sauce.
The sauce wasn't dark enough: the Huy Fong version was dark brown.  I thought of doing a French-style browning of the onions as if for classic French Onion Soup, and the sauce could probably have used another spoonful of soy sauce – using dark soy could also help get the color.  I do like the color I got, and it did darken further upon cooling.
The final difference was the coconut milk.  I'm not sure it was even used in Huy Fong's version, but I do like it.  But I shouldn't have used the whole can – I think half as much would have been better.  And next time I'm going to add a bit more fish sauce, it pretty much disappeared, and try adding more water and cooking it longer.  The Huy Fong version was also smooth, so you might blend the final sauce to a fine puree – I like it a bit chunky.
Finally, I'm going to bottle this and cover it with a layer of oil.  That was one characteristic of the Huy Fong that I also didn't replicate: it was a very oily sauce, with a good half-inch of darkly colored oil on top when opened.  Reducing or eliminating the coconut milk would certainly help with that, as the milk helps keep the oil incorporated, though it does rise to the top over time in the refrigerator.
At the end, I was pretty happy with the sauce – I'm not there yet, but that's half the fun.  The rest of the fun is smearing this over some fresh-fried salty chicken.  Yum!
BTW, this version is hot, as in very hot.  Not carcinogenic, but hot.  If you don't want it so spicy, I'd use fewer arbols and chipotles.
Be well, enjoy, and have fun!
[NOTE:  Be sure to read Jeff's insightful comment on this post – he's the guy who was looking for a recipe, and he makes some cogent, insightful, and hilarious comments.  I can tell Jeff is a fun guy.]